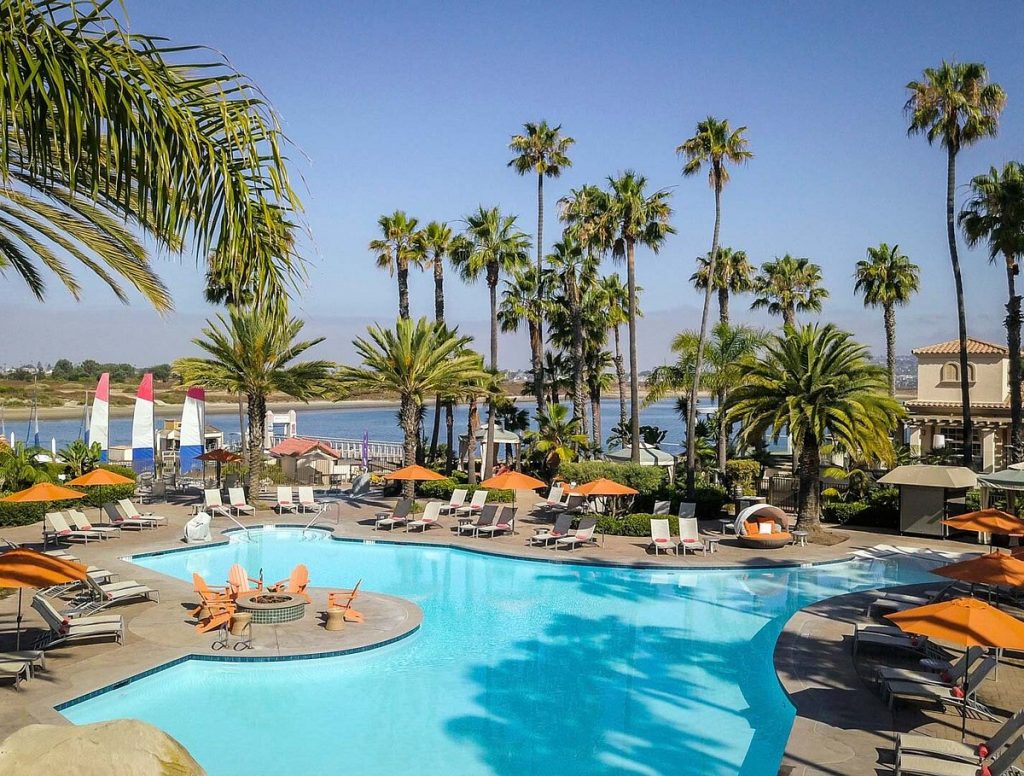 With a yearly average of 266 sunny days, San Diego is California's greatest match for enjoying ocean swims, beach walks, and sunsets, no matter the season. Below is a list of the best hotels and resorts in San Diego located by the beach – mainly in Coronado, Pacific Beach, La Jolla, and Del Mar coastal areas.
---
We could say the Pacific is a stone's throw from the premises; but if we want to be accurate (and we like to be), the truth is one can toss a little pebble into the ocean from his or her room's balcony. Tower 23 Hotel is one of the best oceanfront hotels in San Diego, particularly when you're looking for a place where dipping your toes in the ocean, first thing in the morning, becomes an effortless task. Directly located at Pacific Beach, Tower 23 Hotel faces the clear waters of the homonymous ocean, allowing you to have all kinds of sea experiences from fishing to surfing or whale watching. At the day's end, Cristal Pier, right in front, offers some of the most beautiful sunsets you've ever seen… but if you prefer not to leave the hotel, TOWER Deck on the second floor will charm you with the magic hour warmest colors. Tower 23 Hotel lies in a modern building, the minimalist decoration favoring what needs to be favored: the Pacific, in all its splendor. Try to make early reservations to secure the Surf Pad, Sanctuary, or Sweet – these are our favorite rooms, their names speak for all they have to cheer you within their private patio or balcony: wild nature at its best.
HOTEL VIEW: PACIFIC OCEAN
PACIFIC TERRACE HOTEL (4 STAR)
Okay, we know you've been wanting to visit San Diego for a while. We also suspect you secretly hope to find that amazing, beachfront hotel where you will never lose sight of the sea. Are you still with us? Good, because we will take you to the place you are looking for. The name is Pacific Terrace Hotel, a charming hotel where the waters stretch far to where the eyes can reach. The Pacific Terrace Hotel runs along Pacific Beach Park, one of the most wonderful areas around the city, and is only moments away from Tourmaline Surfing Park Beach and Mission Beach. One step out, and the beach will embrace you in its full brilliance, either relaxing under the ever warm San Diego weather or riding the waves on a surfboard. One step in, and if you ask for a full ocean view room, the endless blue will caress you day and night with its subtle whisper. Take it nice and easy, this is the enchanted stay for ocean lovers like you have been wishing for.
HOTEL VIEW: PACIFIC OCEAN
No matter where you look; no matter whether you choose to be on a close-up or trying to reach the horizon fully. The thing is the ocean will be there, always there, steps away from your room's door, at your eyes' immediate glance. That's the reason why the address of the place reads 'Coast Boulevard': the oceanfront Pantai Inn is a rarity by the sea. Situated in la Jolla, a mere 5-minute walk to La Jolla Cove Beach (a beach visitors' shore with seals and sea lions), this boutique hotel is all the sea you can get from the moment you open your eyes and stare at the window to the moment you notice the elements that surround you. The rooms are decorated in a way that resonates with Asia, most precisely in Bali vibes. And almost all of them face the salty waters of the Pacific. Ask for one of the second-floor rooms, they come with a balcony. This means couches and easy chairs on an ample porch, right over the ocean. Pantai Inn: no other hotel is able to better describe the true spirit of body and soul cleansing.
HOTEL VIEW: PACIFIC OCEAN, SAN DIEGO'S COASTLINE
LOEWS CORONADO BAY RESORT (4 STAR)
Loews Coronado Bay Resort is nestled quietly in a peninsula that looks like a little island, meaning that saying this is just San Diego beachfront hotel would be an understatement. This particular location translates into having the water surrounding you in a perfect 360º circle. Dear guest, welcome to Loews Coronado Bay Resort, very likely one of the most delightful San Diego resorts, especially if you're fond of water. This San Diego hotel features 3 pools and a full-service marina. Gondola rides will be at your disposal and Silver Strand State Beach is scarcely 10 minutes away. A little secret in the San Diego area, the sights at the Loews will hold your breath with open wide vistas from Coronado to San Diego Bay and the infiniteness of the ocean. Are you able to picture this?
HOTEL VIEW: PACIFIC OCEAN, SAN DIEGO BAY, CORONADO
HOTEL DEL CORONADO, CURIO COLLECTION BY HILTON (5 STAR)
Looking for an overdose of pristine ocean water view? Dreaming of sophisticated grandeur? If that is you, choose the beachfront Hotel del Coronado for your vacation in San Diego. The Del or Hotel Del, as it is usually known, is an American gem that has beautifully transcended time. Located just across the San Diego Bay, it is a historic beachfront hotel on the island of Coronado and one of the few living examples of an American architectural genre: the wooden Victorian beach resort. Hotel del Coronado is the second largest wooden structure in the United States and was designated a National Historic Landmark in 1977, after being elected California's Historical Landmark in 1970. Back in 1888, when it opened, The Del was the largest resort hotel in the world. It hosted presidents, royalty, and celebrities like Charlie Chaplin, Betty Davis, Madonna, Brad Pitt, and Oprah, just to mention a few. So now it's your turn! Your turn to enjoy the never-ending view of the Pacific, swim, or water sport in its waters. Two tips? Go for an Ocean View Room, of course, or, for full delight, act as if you live there… book one of the amazing Oceanfront Beach Villas and pretend the house and the ocean are all yours. What could be more perfect for your stay in San Diego?
HOTEL VIEW: PACIFIC OCEAN, CORONADO BEACH
CATAMARAN RESORT HOTEL AND SPA (4 STAR)
Mission Bay is one of the most famous spots in San Diego, renowned for the crystal clear sea waters that delicately caress the sand. If you dream of it, stay at the Catamaran Resort Hotel and Spa. The premises lie at the bay, 92 meters away from the Pacific Ocean. Are you seeing it right now? Honestly, you have to be there to believe it. Mission Bay's views are absolutely amazing, either from the room's balconies or patios, but also at the beach or while strolling peacefully around. Ask for a pair of inline skates or a bicycle for some extra enjoyment; the Catamaran Resort Hotel & Spa will provide. And if you are staying with your children extend this water experience by taking them to the ever fantastic Dan Diego's Sea World. It is a lifetime of contact with nature just 10 minutes away by car. For sure one of the best hotels in San Diego with an ocean view and granting easy access to Pacific Beach, Mission Beach, and Belmont Park.
HOTEL VIEW: PACIFIC OCEAN, MISSION BAY
SAN DIEGO HOTELS NEAR THE BEACH
If staying a few minutes away from the beach would be good enough for you, these are the hotels (most with great ocean views) that you still need to consider while staying in San Diego.
---
GRANDE COLONIAL LA JOLLA (4 STAR)
The Grande Colonial La Jolla is the perfect hotel for all those who fancy the glamour of vintage jewels. Born in 1913, the Grande Colonial was La Jolla's oldest original hotel. It was the talk of the town then; the classy white, wood-framed design was described as "a perfectly appointed hotel, with the finest sun parlor and lobby overlooking the ocean on the Pacific coast." Twelve years later, George Bane, who had become the sole owner of the Colonial, commissioned architect Frank Stevenson to rethink it and design a hotel that would "rival anything in the West." A little less than a century after, the Grande Colonial La Jolla still holds similar allure and charm. Inside the premises, the chic decor reminds us of old days' refinement smartly mixed with 21st-century must-haves. But there is something preserved exactly as it was: the ocean and its astonishing views from almost every windowed surface. Yes, the splendor of the Pacific is at the door, waiting for you as it waited for the guests in the 20s, and as it hopefully will 100 years from now. When it comes to San Diego hotels with an ocean view, not mentioning The Grande Colonial La Jolla would be unforgivable. For enjoying pleasant coastal walks, the nearby beaches we would recommend are Shell Beach, South Casa Beach, and Children's Pool Beach.
HOTEL VIEW: PACIFIC OCEAN
THE LODGE AT TORREY PINES (5 STAR)
The Lodge at Torrey Pines offers all shades of green and blue, tempered by the ever warmth of wood. This boutique hotel at La Jolla, unmistakably one of the very best hotels San Diego has to offer, overlooks the relaxing atmosphere of the Torrey Pines Golf Course, the mild little green slopes surrounded by pine trees resting your soul. But let your eyes travel about and the green will metamorphose in its different shades or will blue by the influence of the astonishing view of San Diego's coastline. Yes, while staying at The Lodge at Torrey Pines, you will be able to experience all ocean's pleasures as well – for instance, Black's Beach, one of the best beaches around San Diego, is moments away from The Lodge at Torrey Pines (beach access requires a bit of hiking). Imagine yourself waking up surrounded by those well-groomed fields, a paradise for all sorts of birds' songs; and then close your eyes and picture yourself in one of the lovely tracks that will take you from the songs to the percussion of the ocean… Yes, this is what it is to stay at The Lodge, more so if you ask for one of the top floor rooms or the Palisades Rooms. And you know what? The best time to come here is, well, all the time. San Diego's weather is generous all year round, only up to you to choose.
HOTEL VIEW: PACIFIC OCEAN, SAN DIEGO'S COASTLINE, GOLF COURSES
HILTON LA JOLLA TORREY PINES (4 STAR)
Well-grounded at the pretty La Jolla hills, the Hilton La Jolla Torrey Pines overlooks Torrey Pines Golf Course and the waters of the Pacific. This means you will be surrounded by nature at its best; honestly, the place is so nice that you'll probably want to explore more. That will not be a problem, more so if you wish to keep on respecting the environment: all hotel guests can rent bicycles to go for a scenic hike and discover the surroundings (like Torrey Pines State Reserve). But if you fear missing the city's excitement, do not worry: the Hilton La Jolla Torrey Pines is minutes away from Central San Diego and Encinitas, while not stopping you from enjoying the quietness of the green and the enchants that emanate from the nearby sea. Probably just what you were looking for on your next visit to San Diego. Last but certainly not least, a word of advice: feel free to witness a spectacular sunset at Torrey Pines State Beach, located minutes away from this San Diego hotel.
HOTEL VIEW: PACIFIC OCEAN, TORREY PINES
CORONADO ISLAND MARRIOTT RESORT & SPA (4 STAR)
16 acres of scenic waterfront. Yes, you read it well: 16 acres of ocean sights is what you can delight your senses with if you choose the Coronado Island Marriott Resort for your stay in San Diego. This hotel is an excellent option for all those who are water lovers but also want to stay close enough to town so to enjoy it. The Coronado Island Marriott Resort has all the salty water views you desire, as well as wonderful fresh waters to be sighted and swum at the 3 lovely outside pools. All of these translate into this hotel's reputation as a wonderful water experience. There is more at sight, tough. Two of the most well-known San Diego are at less than a 10 minutes drive: the Balboa Park and San Diego Zoo.
HOTEL VIEW: WATERFRONT, SAN DIEGO BAY, CORONADO, SAN DIEGO SKYLINE
KONA KAI RESORT & SPA, A NOBLE HOUSE RESORT (4 STAR)
Would you like to feel at home while visiting San Diego? What if your 'home' brings the feeling of living on a private island? Even better, right? This being your kind of stay then the perfect hotel for you is the Kona Kai Resort & Spa, a Noble House Resort. The Kona Kai is a fresh combination of fun and elegance sparked by some bits and pieces of casual luxury. Located at Shelter Island it encapsulates all of California's southern vibe but also the beat and bravura of Polynesian and Spanish Colonial. The ocean and the marina will pervade every room for they all offer private balconies or terraces. Wherever you may be on the premises, you will not lose any water sights: the hotel has its own private beach, the swimming pool floats on top of it, Vessel, the restaurant is the perfect spot for a romantic evening. The Kona Kai Resort & Spa, a Noble House Resort. Looks like a dream, feels like it, too. What more could you expect?
HOTEL VIEW: PACIFIC OCEAN, SAN DIEGO MARINA, SAN DIEGO BAY
L'AUBERGE DEL MAR, RESORT & SPA (4 STAR)
The ocean gently murmurs at your ears; you may believe you are still asleep, but as your senses take control, you open your eyes. The murmurs are still there. Of course, they are, you are in San Diego's village of Del Mar, and you chose to stay at L'Auberge del Mar, Resort & Spa, probably one of the most charming beach hotels in San Diego's coastal area. This resort stands at the shores of the Pacific, disguising luxury with simplicity, enhanced comfort, and style. A few examples of these are some of our favorite rooms, those where the selfish views demand your eyes to stare at none but the sea, and your senses to be hypnotized by the warmth of a romantic fireplace. Room tip: pick a Coastal King Room (each with a private balcony or patio). Should you be tempted to look further on, L'Auberge del Mar Resort and Spa is a great place for new discoveries like beautiful hiking trails in historic parks, top-rated golf courses, or the Del Mar horse racing track.
HOTEL VIEW: PACIFIC OCEAN
MORE SAN DIEGO HOTELS WITH A VIEW
Honestly, one can never be too far from a beach in San Diego. Below are some of our favorite hotels in this Californian city, all featuring inspiring vistas. These hotels are located in Downtown San Diego, Gaslamp Quarter, and Marina areas.
---
MANCHESTER GRAND HYATT SAN DIEGO (4 STAR)
Picture yourself hovering in the air, high above the top of one of the most charming cities in the United States: San Diego. A stay at the Manchester Grand Hyatt San Diego, one of the best hotels in San Diego, is exactly like this. The sights are unbelievable, either portraying the ocean and its surroundings or San Diego's skyline. There is a reason for it, though: the hotel rises 40 stories above San Diego Bay. One can imagine the views featured at the Top of Hyatt Lounge and Bar, the feeling of being fully suspended in awe… with the precious help of the pleasant interiors and light colors that fully contribute to it. The Manchester Grand Hyatt is also conveniently placed: you can easily get from there to most of the major San Diego landmarks and attractions (such as the iconic USS Midway aircraft carrier) or for a plunge at the sea on any of the pretty beaches around.
HOTEL VIEW: PACIFIC OCEAN, SAN DIEGO SKYLINE, CORONADO BRIDGE, CORONADO ISLAND, SAN DIEGO BAY
HILTON SAN DIEGO BAYFRONT (4 STAR)
Looking for a clever mix of business and great sightseeing while in San Diego? The Hilton San Diego Bayfront is possibly one of the city's best options. On one hand, this waterfront hotel overlooks San Diego Bay displaying some of the most beautiful ocean views in town, as well as the great Coronado Bridge and Coronado Island's panoramas before your eyes. The skyline of the city can also be reached, the tall buildings as if stretching to touch the sky, its lights blinking magically at night. On the other hand, the Hilton San Diego Bayfront is next to San Diego Convention Center, which makes it a perfect location for any business venue. But stay there, we haven't finished yet, let us add one extra ingredient to the mix: the Hilton San Diego Bayfront is less than a 10-minute walk to the vibrant Gaslamp Quarter. All this reunited means business, beauty, and enjoyment in one single place – who needs another reason to visit San Diego?
HOTEL VIEW: PACIFIC OCEAN, SAN DIEGO SKYLINE, CORONADO BRIDGE, CORONADO ISLAND, SAN DIEGO BAY, PETCO PARK
SAN DIEGO MARRIOTT MARQUIS AND MARINA (4 STAR)
Grounded right in front of the Embarcadero and displaying stunning sights of the waterfront, the San Diego Marriott Marquis and Marina is a good choice for someone who does not bail out from chasing splendid views together with city joys at the very same place. In fact, San Diego Marriott Marquis and Marina have amazing VIEWS of the city's most remarkable spots: the San Diego Marina, Coronado Bridge, and the bay. On top of this is the closeness to one of the busiest and most joyful neighborhoods, the Gaslamp Quarter, where San Diego reunites tasty food and entertainment in a single place. Let the San Diego Marriott Marquis and Marina be your home on your next stay if you belong to this demanding group of people who would never settle for less.
HOTEL VIEW: SAN DIEGO MARINA, WATERFRONT, CORONADO BRIDGE, SAN DIEGO BAY, SAN DIEGO CITY VISTAS
KIMPTON HOTEL PALOMAR SAN DIEGO, AN IHG HOTEL (5 STAR)
San Diego is a unique city in California. It combines all the wonders of the sea with a cosmopolitan spirit and great all-year warmth, yet in the easy-going spirit of the region's southern part. If this is your kind of town, then the Hotel Palomar is the place for you. Right in the heart of San Diego, this design hotel is 5 minutes away from all the buzz, be it the Gaslamp District for great dining and entertainment or downtown for shopping and strolling the urban way. But all the fun requires serenity, too, and you can also have it at Hotel Palomar. Endure the relaxing moments you wish for at the ravishing pool and bar at the terrace: that is the place chosen by the Pacific to offer its arms to you.
HOTEL VIEW: SAN DIEGO CITY SIGHTS, PACIFIC OCEAN, AND SAN DIEGO BAY FROM THE ROOFTOP TERRACE
SAN DIEGO MARRIOTT GASLAMP QUARTER (4 STAR)
Climb 22 floors above the street level and you will find beautiful sights from San Diego Bay to Coronado Bridge, or traverse a vast surface of modern buildings in order to (once again) meet the waterfront. The San Diego Marriott Gaslamp Quarter's Latitude Sky Lounge is the special place where all this can be enjoyed, a cool rooftop bar where great cocktails mingle with marvelous city panoramas. In addition, the San Diego Marriott Gaslamp Quarter is found in a very convenient location: at the very city's heart, the Gaslamp Quarter, mostly known for the variety of restaurants and nightlife entertainment. Should luck be on your side and there's a match taking place at nearby Petco Park, the rooftop will allow frenetic views of the crowd and the pitch.
HOTEL VIEW: CORONADO BRIDGE, SAN DIEGO BAY, PETCO PARK
Situated in downtown San Diego, next to Petco Park, the Omni San Diego is a cozy hotel that portrays contemporary decor and architecture. Placed in a glassed tall building that irrupts elegantly from the ground, the hotel displays large windows that grant lovely vistas from the bay, Coronado Bridge and Embarcadero, together with the city's sights that draw a particular silhouette in the sky. If you are looking for a place to stay while on a business trip, the Omni San Diego Hotel will also be a good choice because it is very close to San Diego's Convention Center and very close to some of San Diego's attractions.
HOTEL VIEW: SAN DIEGO BAY, CORONADO BRIDGE, EMBARCADERO, SAN DIEGO CITY SIGHTS, PETCO PARK