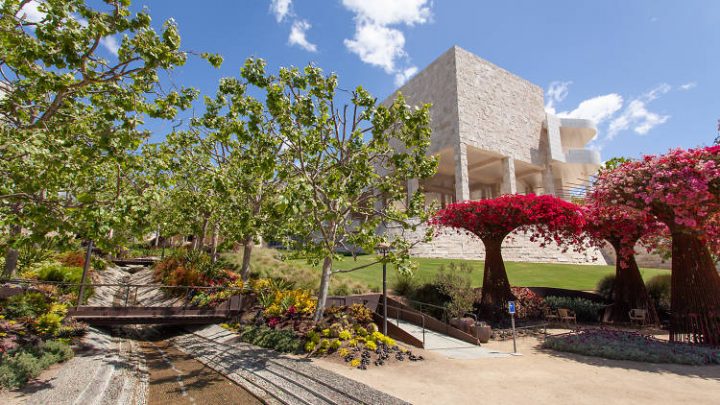 kim through the must-visit attractions in Los Angeles and you'll notice a trend: It's a lot of outdoorsy fun. So committing to a day inside of a museum might pose a tough undertaking. In fact, choosing anything over a 75-and-sunny day at the beach is a hard ask—especially if you're visiting from somewhere with a colder climate.
But here's the thing: No matter how good the weather, visiting L.A.'s museums is essential. Among the city's best things to do, Los Angeles museums rival those in Chicago, Washington D.C. and New York, without a doubt. And, lucky you, a whole bunch of them have stunning outdoor campuses, with hilltop views, sculpture gardens and sunny courtyards.
To get you started (or to continue your education) we've narrowed down L.A.'s long roster of museums to the essentials. Locals, consider this your must-see list (and if you've already visited them all, check out these great off-the-beaten-path museums). No short-on-cash excuses either: Many of these are free museums and all of them offer free admission on select days. And sure, these spots might be spread out but that's nothing a Metro trip or ridesharing service can't solve.
Just a heads up: Masks are required indoors and you'll need to present proof of your vaccination status or a negative test result within the past 72 hours to visit any museum within the City of Los Angeles (which includes nearly all of the picks on our list below).
This article includes affiliate links. These links have no influence on our editorial content. For more information, click here.
Museums
Art and design
Westside
Free reservations required.
What's now called the Getty Villa (a coastal mansion filled with antiquities that's absolutely worth a visit, too) served as the decades-long home for the J. Paul Getty Trust's extensive art collection. But in 1997, the Getty Center opened. The end result is a remarkable complex of travertine and white metal-clad pavilions that houses ornate French furniture, recognizable Impressionist pieces and rotating exhibitions. Its relative inaccessibility is more than compensated for by free admission and panoramic views, from the hills and the ocean in the west all the way around to Downtown in the east. It's closed on Mondays, but you won't regret visiting this huge collection of work on any day.
Event spaces
San Marino
price 2 of 4
Timed reservations required on weekends, recommended on weekdays.
The bequest of entrepreneur Henry E. Huntington is now one of the most enjoyable attractions in the Los Angeles region. It's also a destination that demands an entire day should you attempt to explore it in full: Between the art, the library holdings and the spreadeagled outdoor spaces, there's plenty to see, and most of it is best enjoyed at lingering leisure rather than as part of a mad day-long dash. From a Gutenberg Bible to The Blue Boy to an exquisitely designed Chinese garden, nearly every inch of the estate's grounds and collection is essential.
Museums
Art and design
Miracle Mile
price 1 of 4
Timed tickets required. Free for L.A. County residents weekdays after 3pm. No tickets are required to see outdoor sculptures Urban Light and Levitated Mass.
Chris Burden's Urban Light, a piece made up of 202 cast-iron street lamps gathered from around L.A. and restored to working order, has quickly become one of the city's indelible landmarks. But you'd be selling yourself short if you don't venture beyond the photo-friendly installation; LACMA's collections boast modernist masterpieces, large-scale contemporary works (including Richard Serra's massive swirling sculpture and Burden's buzzing, hypnotic Metropolis II), traditional Japanese screens and by far L.A.'s most consistently terrific special exhibitions.
Just a heads up, though: The eastern half of LACMA's campus is mostly closed as it gears up for a massive redesign which will be called the David Geffen Galleries, due to be completed in 2024. But you'll still find about a half-dozen special exhibitions and a bright presentation of the modern collection located in the Resnick Pavilion and BCAM.
Museums
Movies and TV
Miracle Mile
price 2 of 4
Timed tickets required.
The history of moviemaking finally has a permanent home in L.A., and it's filled with the sorts of cinematic treasures you'd expect from the people who put on the Oscars (and yes, you can hold one): the Rosebud sled from Citizen Kane, Dorothy's ruby slippers, R2-D2, E.T., the Dude's robe from The Big Lebowski, the sole surviving shark from Jaws and the flowery May Queen dress from Midsommar, among many others. But its slick, soap-bubble–like theater and three floors of exhibition space also tell an unflinching, nonlinear history of cinema that makes room for a mixture of stories. Find out more in our complete guide to the Academy Museum.
Museums
Art and design
Downtown
Free timed tickets required. Infinity Mirrored Room requires a reservation, though its reopening has been postponed.
Three words: Infinity Mirror Rooms. Downtown's persistently popular contemporary art museum has two of Yayoi Kusama's immersive, mirror-laden rooms (one that you can step into, one that you only pop your head into). Elsewhere in the free museum, Eli and Edythe Broad's collection of 2,000 post-war works includes artists like Andy Warhol, Roy Lichtenstein, Ed Ruscha, Cindy Sherman, Jean-Michel Basquiat, Barbara Kruger and Jeff Koons. Outside, the museum's plaza features a lovely olive tree grove that sits in from of Otium, the museum's signature restaurant from French Laundry alum Timothy Hollingsworth. Find out more in our complete guide to the Broad.
Museums
Art and design
Westwood
Industrialist Armand Hammer founded this museum in 1990, primarily to house his own collection, and it opened just three weeks before he died. Now, the free, UCLA partner institution stages fascinating shows of contemporary art, photography and design, often with an epmhasis on local artists (most notably with its "Made in L.A." biennial). The shows are supplemented by a small permanent collection and the Hammer's public events calendar (arguably one of the best in the city), chock full of free lectures and screenings.
Museums
Natural history
USC/Exposition Park
price 1 of 4
Advance tickets recommended; free for county residents from 3–5pm.
The NHM's original Beaux Arts structure was the first museum building in L.A., opening in 1913 with Exposition Park itself. The more recent Otis Booth Pavilion welcomes visitors into the museum with a six-story glass entrance featuring a stunning, 63-foot-long fin whale skeleton. Highlights include the gem and mineral hall, spectacularly presented dinosaur and mammal fossils, the 3.5-acre urban nature gardens and "Becoming L.A.," which examines the Los Angeles region's history from its indigenous inhabitants to the present day.
Museums
Art and design
Downtown
Free timed tickets required.
The main branch of L.A.'s Museum of Contemporary Art houses thousands of artworks crafted from 1940 to today, and it's an efficient primer on post-war art. Spend half an hour or an entire afternoon absorbing contemporary pieces from lesser known artists, punctuated by sightings of Mark Rothko and Jackson Pollock works. Some of the museum's most exciting exhibitions take place at the nearby Geffen Contemporary; both locations notably switched to free admission in 2020 (aside from some special exhibitions), which makes a visit that much easier.
Free timed tickets required.
In 1974, oil magnate J. Paul Getty opened a museum of his holdings in a faux villa. Eventually the decorative arts and paintings were moved to the Getty Center, but the villa remains as the home of Getty's collection of Mediterranean antiquities. Today, there are roughly 1,200 artifacts on display at any one time, dated between 6,500 BC and 500 AD. Even if you're not interested in the art, the palatial courtyards and manicured gardens are worth the visit.
Museums
Science and technology
Griffith Park
price 1 of 4
The museum at the Griffith Observatory is currently open Friday through Sunday. The surrounding grounds are open daily.
The vista from this hilltop landmark is stunning, particularly at night when Los Angeles twinkles below. Inside you'll find a bevy of exhibits, including a Foucault pendulum (directly under Hugo Ballin's famed mural on the central rotunda), Tesla coil and planetarium show. Give yourself plenty of time before the 10pm closing to gaze through the 12-inch refracting telescope on the roof, otherwise you can look through the far less crowded modern, reflecting telescope on the front lawn.
Museums
Art and design
Pasadena
price 1 of 4
Advance tickets recommended.
The Norton Simon's Frank Gehry-helmed makeover in the late 1990s raised the museum's profile, but it also helped to expand the range of the museum's collection, giving it more space and creating a calm, simple environment. The museum is still best known for its impressive collection of Old Masters, notably pieces by 17th-century Dutch painters such as Rembrandt, Brueghel and Frans Hals. The French impressionists are represented by, among others, Monet, Manet and Renoir. After you've checked out the temporary shows, head into the excellent sculpture garden.
Museums
Science and technology
USC/Exposition Park
Timed tickets required. There's a small service fee; you can skip the fee by buying tickets on-site at the box office, but time slots are limited.
Permanent exhibit galleries at this kid-friendly Exposition Park museum explore life sciences, human innovation and powered flight (all with a decidedly '90s design flair). But the real attraction here is the Space Shuttle Endeavour, which was very pubicly paraded through L.A. to reach its temporary home at the Samuel Oschin Pavilion—a permanent structure slated to display the ship upright is in the works. Even if you have no interest in the rest of the museum, it's worth a visit to come face to face with one of this country's most iconic engineering marvels.
Museums
Transportation
Miracle Mile
price 2 of 4
Advance tickets recommended.
Miracle Mile was the first commercial development in L.A. designed expressly for the benefit of drivers, and so a former department store makes an apt home for this museum of car culture. A 2015 redesign has since turned the automotive history museum into a high-tech gallery with about 150 cars on display. There's a glimpse into the rise of car culture in Southern California, but that mostly takes a backseat to a focus on the progress, dominance and dazzling good looks of the automobile. You'll find a mix of famous Hollywood cars, sumptuously swooping vintage vehicles and high-performance supercars.
Museums
Art and design
Long Beach
price 1 of 4
Timed tickets recommended. Free Sundays.
Located on land that once housed a productive silent film studio, everything about this museum is a forward-thinking enterprise, from its modern and contemporary-driven collection to its building. The core of the permanent collection is in the Long Gallery, with work by one artist from every Latin American country. Swing by on Sundays for free admission.
Museums
Natural history
Miracle Mile
price 1 of 4
The outdoor pits are free to visit. Advance tickets for the indoor museum recommended.
Back in 1875, a group of amateur paleontologists discovered animal remains in the pits at Rancho La Brea, which bubbled with asphalt from a petroleum lake under what is now Hancock Park. Some 140-plus years later, the pros are still at work here, having dragged millions of fossils from the mire in the intervening years. Many of these specimens are now on display in this delightfully old-fashioned museum. Outside, the pits still bubble with black goo—you can watch paleontologists at work in the excavation of Pit 91 and toil away at the fossils waiting to be found as part of Project 23.
Things to do
Little Tokyo
price 1 of 4
Temporarily closed.
This museum tells the story of Japanese immigration to the U.S., from early restrictions on property ownership to the brutal internment camps during World War II. Aside from the permanent exhibition, the museum stages an engaging roster of documentary and art exhibitions, including a wrenching yet beautiful display of images and artifacts from the aforementioned internment camps. Recent exhibitions have ranged from an awe-inspiring showcase of Japanese tattoo traditions to a Hello Kitty retrospective.
Art
Galleries
Downtown Arts District
Though technically a gallery, Hauser & Wirth basically feels like a museum. Much of that is owed to the international gallerist's massive footprint, a 116,000-square-foot former flour mill. The restored complex houses up to three exhibitions at a time, with a mix of post-war contemporary icons and of-the-moment working artists.